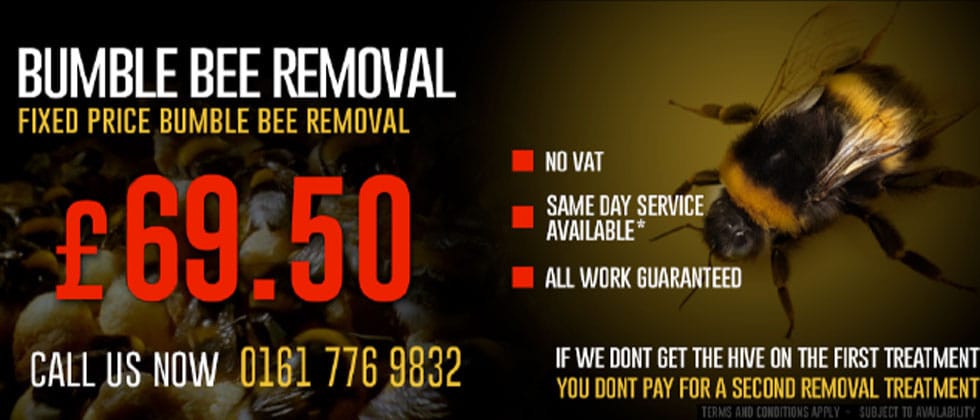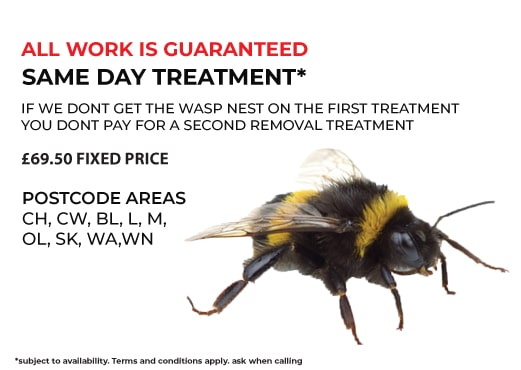 Need Help? Call us on 0161 776 9832 or drop us an email for expert pest control advice on how to identify pest infestations and help solve your problem.
Professional Gatley BumbleBee Control
Young's pest control services are available to anyone who requires the same day, guaranteed removal of any bumblebee nest on their property. Every young pest control professional is trained and experienced in safely removing bumblebee nests from the property. If you need a Gatley bumblebee control professional to come to your property today, then you need to talk to the experts at Young's Pest Control.
Why Bumblebee Nests Should Be Approached With Caution
It is important that homeowners are cautious when dealing with a bumblebee nest. It is recommended that homeowners do not try and treat bumblebee nest by themselves or attempt to remove them. Normally bumblebee is will not attack humans. But if the bumblebee nest is disturbed or even approached, the bumblebee may swarm the intruder. This is why you should always use the services of our professional Gatley bumblebee control company to remove the nest.
BumbleBees May Sting Multiple Times
The female bumblebee is capable of stinging. Unlike a honeybee, the bumblebee sting does not have barbs. This means that their bumblebee can sting multiple times without injuring itself. The sting from the bumblebee can result in swelling and irritation, which may last for a number of days, even after the initial pain has worn off. People who have an allergy to bee venom can go into anaphylactic shock after a singles sting from a bumblebee. Bumblebee nests should always be approached with caution and respect.
Growing Numbers Of Tree BumbleBees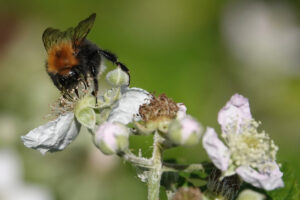 Tree BumbleBee
There are approximately 19 different species of bumblebee in the United Kingdom. In recent years one of the most commonly sighted is the tree bumblebee. Tree bumblebees, more formally known as Bombus Hypnorum, are recognisable by their black abdomen with white tip and Ginger thorax. The Bombus Hynporum will frequently make their nest inside of bird boxes and close to the home. Males, which are distinguishable by the yellow fears hairs on their face, will often hovering groups around the entrance of the Birds nest box, waiting for the queen to emerge.
Every bumblebee removal using Young's Pest Control is 100% guaranteed. If the bumblebee nest is not completely removed on the first visit, then our Gatley bumble best control professionals will come back for free. When you use our bumblebee nest removal service you know exactly how much upfront it will cost. Young's Pest Control offers a fixed fee service for Gatley bumblebee control. Call now to have your bumblebee removal solved for good.