Need Help? Call Us On 0161 776 9832 For Expert Pest Control Advice On How To Identify Pest Infestations And Help Solve Your Pest Problem.
Farnworth Bed Bug Treatment
Don't Let The Bed Bugs Bite!
Bed bugs are more common than you may think and will make your bedroom an unpleasant place to be. They are parasitic, feeding on their hosts' blood and leaving excrement on the bed sheets as a thank you. Thankfully, Young's Pest Control can deal with the problem effectively, ensuring full Farnworth bed bug treatment and removal, letting you sleep soundly.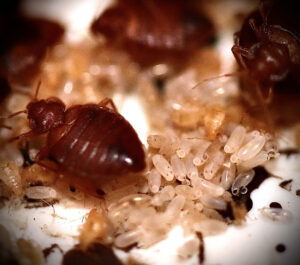 Bed bugs are attracted by body heat, so the chances are that they will only inhabit a bed where someone regularly sleeps, providing a steady stream of blood and a warm environment to thrive in. They are also nocturnal and attracted by carbon dioxide, which we emit more of whilst we're sleeping; providing the ideal time and environment for these pests. The most common causes are travel and the buying of old, infested furniture. There is no link between bed bugs and our cleanliness.
The signs of a bed bug infestation can show themselves both on the bed, and on the host's body. Thankfully, the earlier the signs, the easier the Farnworth bed bug treatment will be. Typical signs include, but are not limited to:
Blood stains on bed sheets and pillowcases

Dark and rusty spots of excrement on bedding, clothes and furniture

Musty odours from the bugs' scent glands

Red spots on the skin
Bed bugs will only leave red stains if they are crushed whilst they still have undigested blood in their bodies.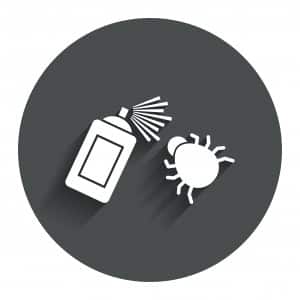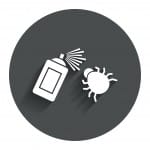 Young's Pest Control has years of experience in bed bug fumigation and other less intrusive means of bed bug control. As well as being ineffective, bed bug control, if not carried out correctly, will allow the bed bugs to increase in population, and cause nothing more than the spreading of unnecessary insecticides. Bed bug fumigation is not our only form of treatment; we will be able to assess the extent of the problem, find the likely causes, and provide preventative advice, negative the need for more costly Farnworth bed bug treatment in the future.
For commercial premises such as hotels, there is no greater customer turn off than finding out the place you're in has any kind of infestation. For this reason, we carry out discreet bed bug removal in unmarked vans, with the ability to work outside of normal business hours to minimise inconvenience. One call to us and you're closer to getting rid of the problem.