Need Help? Call Us On 0161 776 9832 For Expert Pest Control Advice On How To Identify Pest Infestations And Help Solve Your Pest Problem.
Professional Dukinfield Mole Trapping
Moles are a common and widespread pest. Their successful and specialized lifestyle has allowed them to inhabit all areas of the United Kingdom. Due to the nature of their existence, they can cause numerous problems on both domestic and agricultural levels. As they are physically hard to access, Dukinfield mole trapping and control require specialist techniques and equipment.
An annoyance for the homeowner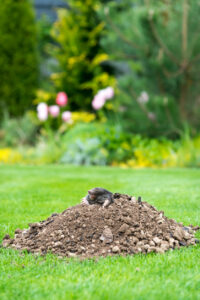 Moles create extensive networks of tunnels with regular conduits to the surface to provide ventilation. The air holes that they create are seen on the surface in the form of unsightly molehills. Beneath a lawn, a moles domain will require several hills and you will notice them over time popping up along the course of the mole's lair. This causes the obvious cosmetic damage to the lawn and secondary damage to the roots of your lawn and garden plants.
A mole can consume its body weight in food every day. This is mainly taken in the form of earthworms. The knock-on effect of this is that the worm population decreases drastically and the quality of the soil therefore drops.
Agricultural damage

Soil quality is obviously paramount to agricultural land and without effective Dukinfield mole trapping and control, land can deteriorate. Grazed land can develop holes on the surface that can harm livestock. Arable land can see a drop in soil quality. Young's pest control offers a range of mole pest control solutions such as Dukinfield mole trapping that can rid you of these pests.
Crop roots can be damaged by the extensive borrowing habits of the mole. Trees, such as those in orchards can be weakened and suffer a loss in nutrient-uptake due to the soil beneath them being disturbed. As a rodent, moles will gnaw to hone their teeth and this can be done on the roots of trees and plants. This will obviously have a drastic effect on the growth and life of the plant above.
Can I exterminate them myself?


Do-it-yourself methods of mole control can add to the problem. An untrained individual may remove the weaker specimens and eradicate the competition for the stronger animals allowing them to spread faster. It can be hard to spot the signs of infestation on large areas of land. Young's have a wealth of experience in Dukinfield mole trapping and will help rid you of an infestation for good. We can carry out the task effectively and in as humane a way as possible.