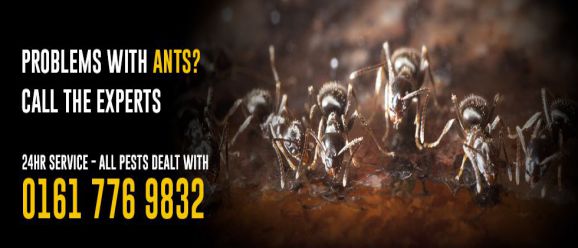 Need Help? Call us on 0161 776 9832 or drop us an email for expert pest control advice on how to identify pest infestations and help solve your problem.
Cheadle Ant Infestation Removal Experts
Leaving aside general embarrassment it has become more common than ever to suffer from an ant infestation in the house. With over 8000 species to worry about it is no wonder, they have become such a problem. This is the correct time to seek out advice on Cheadle ant infestation removal from Young's Pest Control, especially if you feel you may have a situation in your personal space. With their extra-large colonies and appetite for destruction, this is one hazard which should not be left untreated no matter what the circumstances are. Pick up the phone and ask about your flying ant infestation.
Ant Control Inside the Home
Ants are clever creatures who breed in large numbers. They are a well-known scavenger and will likely feed off anything from crumbs left in the kitchen, to large portions of meat. Don't let their size fool you, they move around quickly and will gobble quickly with the rest of their colony. Inquiring about Cheadle ant infestation removal is the only guaranteed way to become free of them, and stop their numbers increasing. Even if you think there is only a small number, just remember this will get larger and in record time. Stop it before it turns into an ant infestation.
The facts
It's not just food scavengers ants you need to worry about. There is also a very common carpenter ant. They are attracted to wood and will leave large holes in the process as they nibble through it.

They damage wood purposely to make nests, there is no taste or value in the process. Therefore they won't stop till they get the desired size.

An ant infestation in your bedroom or attic can cause havoc with your furniture that may be beyond repair. Carpenters ants prefer moist wood to dry, so always check out damp areas first.
The proper Cheadle ant infestation removal treatment should be carried out urgently in these cases.
Ant Control Outside
It's not just an ant infestation in the house you need to focus on, but what about a flying ant infestation outdoors. Just think of all the gobbling they could do on your plants, flowers, soil and vegetable patch. Too many farmers and common gardeners suffer throughout the year with this problem. Instead of ignoring it, pick up the phone and talk to the professionals about their Cheadle ant infestation removal service for inside and outside.