Need Help? Call Us On 0161 776 9832 For Expert Pest Control Advice On How To Identify Pest Infestations And Help Solve Your Pest Problem.
Professional Cheadle Hulme Mole Trapping and Control Methods
Mole Hole Mess?
Young's Pest Control offers a comprehensive and effective system for mole pest control. Cheadle Hulme mole trapping, done properly by the professionals at Young's Pest Control means proper mole control, as opposed to an awkward and potentially risky, do it yourself mole pest control. Do not risk bites or picking up the disease by trying to handle mole trapping and mole control on your own.
Best Natural Diggers
Moles are excellent diggers. They like to live underground, and they dug massively long and extensive tunnel networks. This is because they feed on earthworms, and must keep digging nearly all the time just to find enough food for themselves and their babies (called pups). Moles will eat between 70 and 100% of their own body weight, as often as every day.
2 to 18 cm long

60 to 130 grams

The snout is similar to pig's, long and flexible with just a few sensor-type hairs

Smell and touch vital, tiny eyes which can only detect light

Sleeps and works in four hour periods around the clock

Females can have 3-6 moles per litter once a year

After two months pups can begin to dig and look for food on their own

Can reproduce at 12 months

Solitary animals

Sometimes moles have been known to fight another mole to the death
Young's Pest Control is your best source of more advice and information. One phone call will mean the difference between dead plant roots and rooted lawns versus a happy garden and pest free landscape. There are several methods of Cheadle Hulme mole trapping and control available, along with preventative measures suggested or done on-site at your home or business.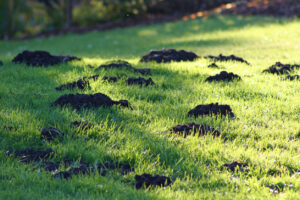 On-call for you 24/7, Young's Pest Control will come to your home or business quickly and provide humane trapping and professional advice. We want you to be able to enjoy your property, especially that garden or lawn which you have worked hard to make look presentable.
Protect your trees, children, visitors, pets, shrubs and plants, and the turf itself by obtaining Cheadle Hulme mole trapping and control services from us. If you are awake we are awake for you, regardless of the time of day and with no additional weekend or evening charges. We stand by our service and have many regular and happy customers to prove it.