Need Help? Call Us On 0161 776 9832 For Expert Pest Control Advice On How To Identify Pest Infestations And Help Solve Your Pest Problem.
Why You Should Go for Professional Chadderton Grey Squirrel Control
The Grey squirrel is a small mammal that weighs about half a kilogram. As the name suggests, it is grey and has a white underside. It also has a long distinctive bushy tail that curls upwards. Although commonly found in Britain, it's not a native species here as introduced from the United States. This little animal is notorious for its behaviour of burying food in numerous places in its territory. This usually damages the landscape, primarily if it has been well maintained.
Facts about the Grey squirrel


Grey squirrels are highly adaptable and have permanently displaced the red squirrels wherever they have been introduced. They breed bi-annually and may have as many as eight offspring. In the United Kingdom, the animal is classified as a pest. The squirrel control legislation was introduced through the Wildlife and Countryside Act of 1981, making it illegal to release a grey squirrel trapped. Chadderton grey squirrel control is, therefore, best affected by the help of professionals.
The need to hire the services of professional pest experts

Various environmental organizations have always advocated for Chadderton grey squirrel control. The main reason for doing so is that they drive away red squirrels since they are faster, stronger and more aggressive. They also damage both small and mature trees and are thus a threat to the environment. Grey squirrels do not have natural predators in the United Kingdom, and pets such as dogs and cats do not affect their numbers. In addition to their environmentally destructive nature, these animals carry a deadly pox virus that does not affect them. Chadderton grey squirrel control is a job that should, therefore, be left for squirrel removal professionals.
Young's Pest Control has highly skilled experts trained to capture and destroy the squirrels in a humane manner. Our Chadderton grey squirrel control methods are have also been approved by the relevant regulatory authorities and are of the highest standards in the current market.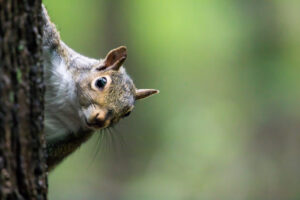 Young Pest Control also offers:
• Around the clock grey squirrel control services.
• Environmentally safe squirrel removal methods.
• Affordable rates
• Regular customer visits to make sure that the problem hasn't reoccurred.
• Other pest control services include bumble bee nest removal, mice control, wasp nest removal etc.
Therefore, Young's Pest Control is the leading Chadderton grey squirrel control company that gets the job done thoroughly.