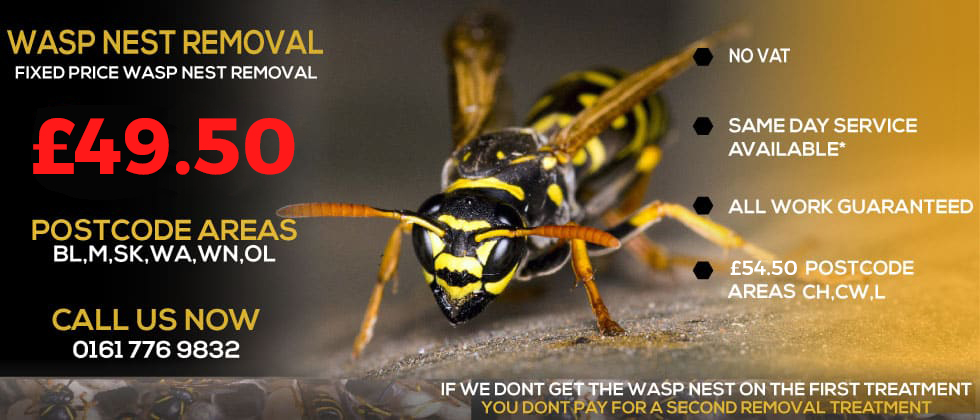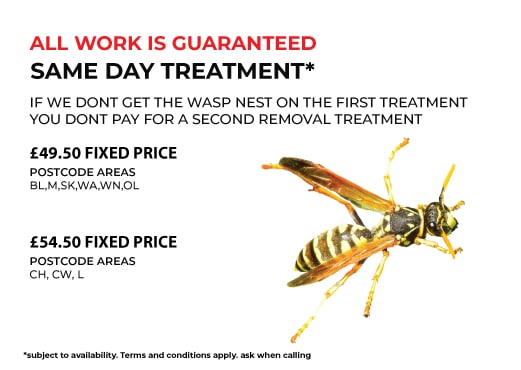 Need Help? Call us on 0161 776 9832 or drop us an email for expert pest control advice on how to identify pest infestations and help solve your problem.
Expert Bury Wasp Nest Removal
There's nothing worse than sitting in the garden in the summer months and seeing a wasp or a hornet approaching, ready to sting. These creatures can be a real menace, especially when having a barbecue or other function, because they will be attracted to the smell and taste of food. Children and people with insect allergies can quickly become frightened and may need to stay indoors, missing out on the enjoyment of an English summer.
The wasp's nest problem
There is likely a nest in the locality if you see several wasps or a hornet near the house, which is terrible news. Wasps like to build their nests in out-of-the-way locations, such as in a roof space or a crack in a wall. Homeowners may try to remove a wasps' nest from a shed or the loft, but this can be a risky exercise for the untrained. Once roused, the insects can become angry and swarm, increasing the risk of stings.
Carrying out Bury wasp nest removal treatment
It's not a good idea to tackle a wasp's nest without professional help from a pest control company. The advantages of calling on the professionals for help with Bury wasp control include:
• Professional pest control operatives have access to solid and effective insecticides which are not available to the general public.
• They come adequately equipped with protective clothing, vastly reducing the risks should the wasp's swarm and attack.
• Qualified pest control workers are confident with working at heights and will carry appropriate insurance cover.
If you buy wasp removal products from a local garden or DIY store, you may find these ineffective due to the low level of insecticide they contain.
Your local, affordable Bury wasp nest removal treatment company
Young's Pest Control services offer a convenient, local and affordable service that can rid householders of the wasp menace for a fixed price. When it comes to wasp or hornet treatments, using Young's Pest Control is a no-brainer. Just pick up the phone next time you see wasps on your property.