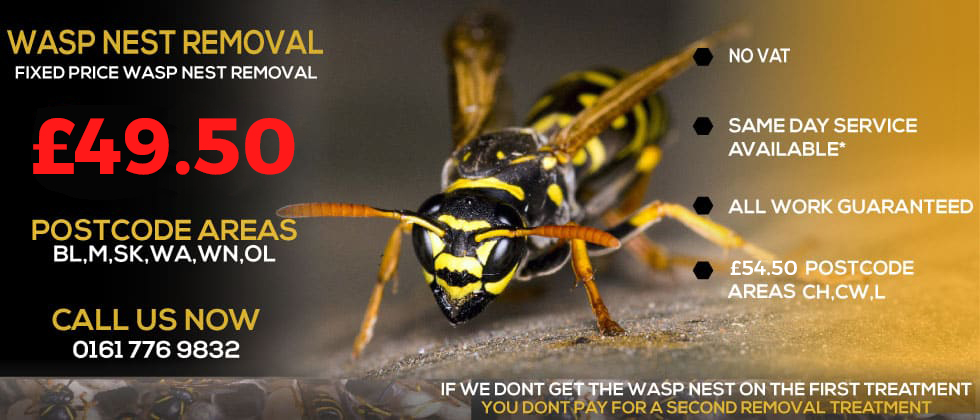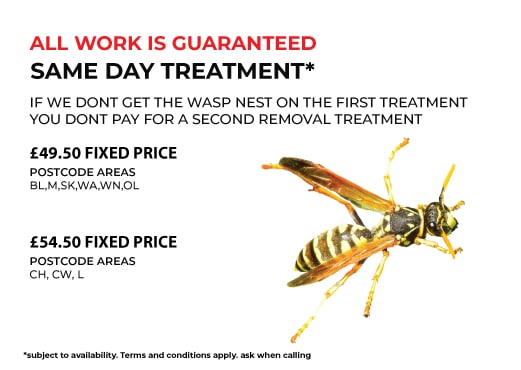 Need Help? Call Us On 0161 776 9832 For Expert Pest Control Advice On How To Identify Pest Infestations And Help Solve Your Pest Problem.
Ashton upon Mersey Wasp Nest Removal
With a history that goes back to the time of the Romans, Ashton upon Mersey is an impressive address. But something just as
impressive about this area is that Ashton upon Mersey's population doesn't have to suffer from hornets and wasps for long. Hornet and wasp control in this area are very well taken care of by Ashton upon Mersey Wasp nest removal. In addition, young's Pest Control has a strong base in the area. This company is the absolute expert in the area of pest control.
Hornet and Wasp Control
Hornet and Wasp control is not as simple as it seems to be. To control the spread of these sneaky pests, which can drive you crazy with poisonous stings and put your health in jeopardy, it's necessary to remove the nest. Removing a wasps' nest or a hornets' nest is not a task for amateurs. Some householders mistakenly believe that they can save some cash by carrying out this job for themselves. But they cause themselves a lot of anxiety and may end up with unpleasant stings and even worse side effects. Also, their removal may not be effective. This is a job best left to the professionals. Let's look at a few reasons why you should engage Young's Pest Control for this sensitive task. 
An Efficient Service:

 Young's Pest Control endeavours to come around on the same day as the call comes in. In case the call comes later, we'll come around first thing the next morning.

An Economic Service:

You may be surprised to learn that wasp nest removal cost is not as much as you might have thought. This highly professional service is affordable to be availed of by as many households and business owners as possible. Such an essential service should not be out of reach for people struggling through the current economic climate.

An Ethical Service:

The company uses humane methods to eliminate the pests as far as possible.
The Best Wasp Exterminator
We've just looked at some of the reasons why Young's Pest Control is the best wasp exterminator in Ashton upon Mersey. This company can help you get rid of wasp nest worry by removing the nest completely and efficiently with minimal disturbance to you, minimal danger to everyone in the vicinity at a minimal cost. This service is required for painless pest removal. It's thorough, discreet and economical.
Wasp Nest Removal Cost
Owing to economic tension, some householders try to use homemade methods to rid their homes and even business premises of pests like wasps and hornets. This is a big mistake. Removing a wasp's nest without proper training and equipment may put you in hospital at the very least and may even cost you your life if you have an allergic reaction to wasp stings. These creatures are programmed by nature to sting defend their home base, and you will be putting yourself in immense danger by attempting to get rid of the nest in an amateur fashion. Don't let tension about cost be an obstacle in hiring a professional pest removal service to get rid of wasp nest worry. You'll be amazed at how such a high-quality service can be so affordable. Just pick up the phone, give us a call and ask for a quote. 
A Most Professional Service
Experienced professionals equipped with the latest technology and removal methods are required for the removal of stinging pests.
We've already explained that wasp nest removal cost is less than you probably think. Don't put yourself in danger to save such a minimal amount of money. When a wasps' nest or a hornets' nest appears on your property, pick up the phone and call Young's Pest Control. Get our professional service working for you. You'll be glad you did.
M33