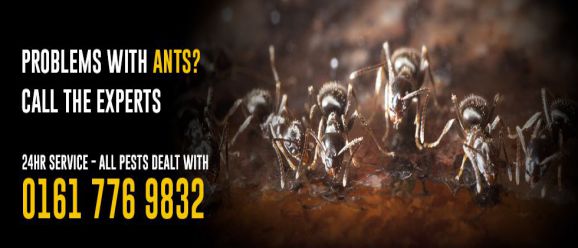 Need Help? Call us on 0161 776 9832 or drop us an email for expert pest control advice on how to identify pest infestations and help solve your problem.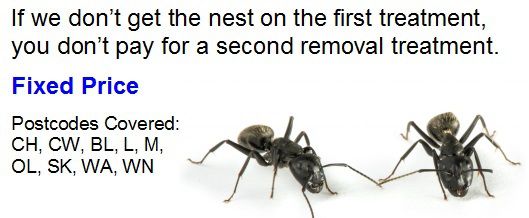 The Best Professional Ashton-Under-Lyne Ant Infestation Removal Company
Ants are tiny insects that are highly communal and live in an organized central structure. There are thousands of ant species worldwide, but only a few are found in the United Kingdom. These tiny creatures mostly thrive in warm climates, which most of the British shores are not blessed with.
The most common species is the black garden ant which can be found in various places such as gardens, lawns, and verandas. They usually live in nests that they build outdoors or sometimes right in our homes. Each colony must have a queen ant that is the matriarch of individual nests. The rest of the nest usually consists of workers and male ants.
Why hire professionals for your ant control?

Once ant infestation has taken root in your home, the best recourse is usually Ashton-Under-Lyne ant infestation removal by qualified and certified ant control experts. It's easy for one to question the need for professional and removal experts in getting rid of such minute creatures. Well, they would be wrong! Ants are very destructive and can cause unimaginable losses if left unchecked. This is irrespective of whether the problem is related to an ant infestation in a house or flying ant infestation that occurs outdoors. Ants have been known to destroy crops and supplies, harm domestic animals and even bring down an entire building by eating away the important structural pillars, especially those made of wood. Ants can also multiply quickly as the queen ant constantly lays eggs. She does so continuously throughout her whole life and which sometimes can be more than a decade. Most Do-It-Yourself pesticides are harmful to our little fingers and much-loved pets. Contacting a professional for your Ashton-Under-Lyne ant infestation will not only solve your ant problem but will also ensure the safety of your loved ones.

Flying ants can be tough to control due to their flying nature. Therefore it's always advisable that you call experts to help you deal with the flying ant infestation or in house problem.


Why hire young's pest control
• Our company is one of the best companies in dealing with Ashton-Under-Lyne ant infestation removal.
• Our ant treatment techniques are widely known and highly acclaimed.
• Our staff is highly trained and competent at what they do.
• Our Ashton-Under-Lyne ant infestation removal methods are environmentally friendly and none of the insecticides used, if any, are harmful to your health.
Young's pest control takes pride in customer satisfaction, and it's a guarantee that you will not be dissatisfied with our Ashton-Under-Lyne ant infestation removal services.