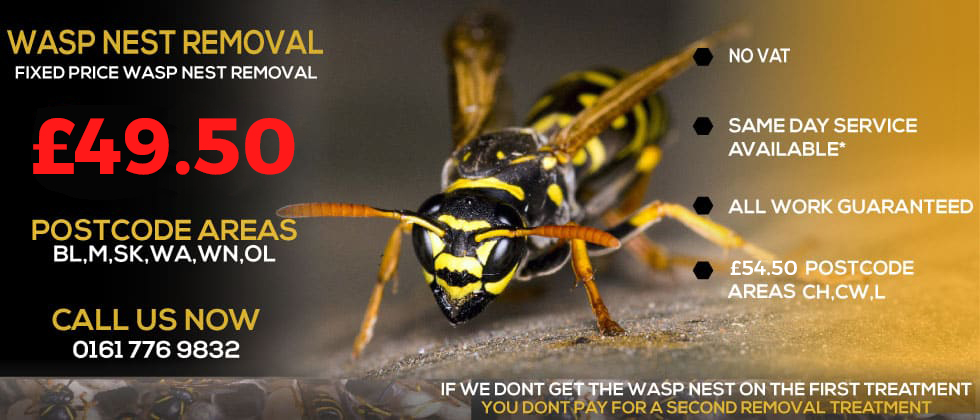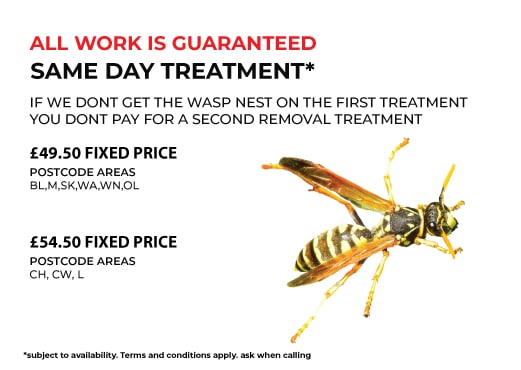 Need Help? Call us on 0161 776 9832 or drop us an email for expert pest control advice on how to identify pest infestations and help solve your problem.
Professional Winsford Wasp Nest Removal Treatments
The thought of a hornet or wasp nest filled with thousands of insects can be a nightmare for many, although it is a common occurrence around the UK. It is unlikely to cause any problems in a secluded spot, but this is not the case if a nest is built inside or somewhere around a property. Anyone coming too close to the entrance could be in for an unpleasant experience as wasps and hornets will sting in defence of their home. Young's Pest Control can help with this situation, and our wasp control services are available to anyone.
Nest Beginnings
A solitary queen hornet or wasp will typically hibernate over the winter months then become active in the warmth of early spring. At this time, she will start looking for a suitable site to start building a nest. This will typically be a quiet, sheltered spot, and there are plenty of locations around a building that a queen can choose. This includes attic spaces, basements, under roof overhangs, tree branches, and inside sheds, to name just a few. The queen will start the construction and lay eggs in this, but once workers are born, they will generally take over the nest's role.
Nest Growth
As the spring and summer months pass, the queen hornet or wasp will continue to lay eggs, and the size of a nest will grow to accommodate the colony. When left undisturbed, it is not uncommon for a nest to have thousands of insects living in it, and if built around a property, this can be a serious hazard. Opting for a Winsford wasp nest removal treatment is the best course of action to take, and calling in professionals to handle the job will ensure it is done properly.
Wasp Removal
Our wasp control solutions are designed to treat a nest to be safely removed with little risk to our staff and anyone else in the vicinity. We will visit the property to assess the situation to choose the best types of insecticide. We also equip our workforce with safety equipment and clothing to ensure they can complete a Winsford wasp nest removal treatment with the minimum amount of fuss and disturbance to a property owner. To take advantage of our professional pest control services, simply send us a message online or give us a call.
CW7