Need Help? Call Us On 0161 776 9832 For Expert Pest Control Advice On How To Identify Pest Infestations And Help Solve Your Pest Problem.
Wilmslow Bed Bug Treatment Specialists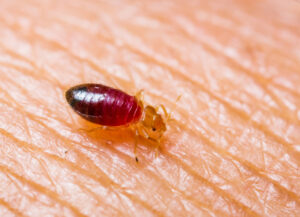 Bed bugs are microscopic and somewhat indefinable creatures. You must take preventative measures within your living environment to prevent these insects from becoming an ongoing problem. Here at Young's Pest Control, we offer professional services, which ensure the eradication of the problem. We provide comprehensive bed bug control, Wilmslow bed bug treatment and bed bug fumigation. If you have a persistent problem within a commercial or private property, do not hesitate to contact us.
Identifying Bed Bugs

If you have recognised signs of a bed bug infestation, then immediate steps need to be taken to ensure effective action. Furthermore, gathering key information on the insect is pivotal if future outbreaks are to be stopped.
Bed bugs normally hide in cracks during the day and often appear at night, eventually disappearing again just before the sun comes up. Although, bed bugs do not always frequent beds. They can often be found up to 100 feet away to feed.
Areas Where Bed Bugs Can Be Found

Essentially, bed bugs are found in beds, headboards and other surrounding areas, where conditions are favourable. Females are known to lay 1-5 eggs daily. Eggs are relatively easy to spot; they are found in nestled clusters, held onto a surface by a clear, transparent substance. Their eggs are often found in small cracks and minuscule crevices, difficult to locate. As the young mature, they need blood to survive and feed every 6 to 10 days.
What Bed Bugs Are Drawn To:
- Excess body warmth
- Carbon dioxide from human breath
- General human beings and domestic animals
Bed Bug Identification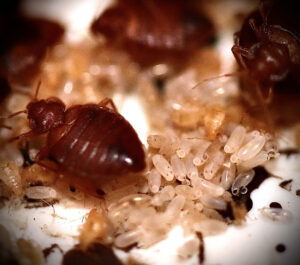 Bed bugs can be identified by looking at the insect itself, recognising eggs, blood spots or any remnants left by the bug on clean bedsheets. We understand that having bed bugs within your home can be disconcerting, and instant Wilmslow bed bug treatment is essential. However, you must leave bed bug removal to our professional and dedicated team of experts.
Readying Yourself for Your Wilmslow Bed Bug Treatment

If you have booked an appointment with us, please take a look at our Bed Bug Preparation Sheet for more information on preparing your property before work is undertaken.
If you need bed bug control or bed bug fumigation, call a member of our friendly team to assist you. We will be able to tailor our services to the needs of you and your property.
SK9