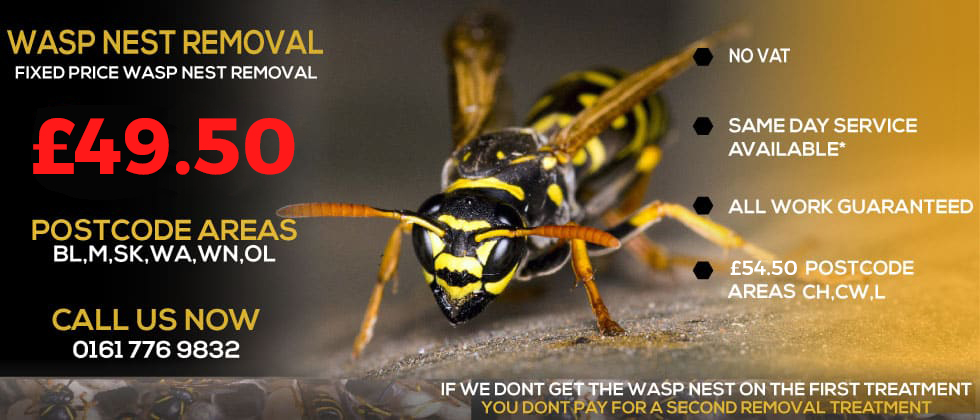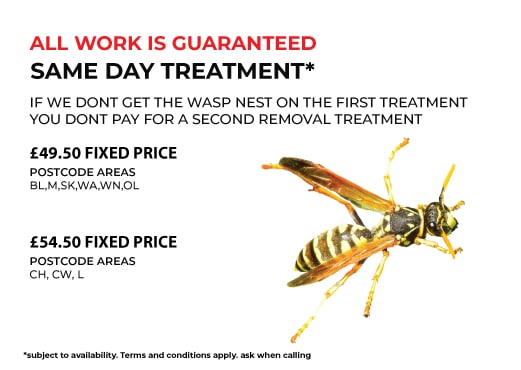 Need Help? Call Us On 0161 776 9832 For Expert Pest Control Advice On How To Identify Pest Infestations And Help Solve Your Pest Problem.
Warren Wasp Nest Removal 
If you have spotted wasps in a given area recently, the chances are that there is a wasp nest somewhere very close, and you need to call Warren Wasp Nest Removal services as soon as possible. But before you do that, you need to find where the wasp nest is so that the wasp exterminator will get to work as quickly as they get there.
 Let's look at essential details about finding Wasp Nests and why you need to contact us.
 How do you find wasp nests?
 Wasps usually build their nests inside lofts, in trees, and on the edges of roofs. In some cases, they will make their nest in garages or sheds. Therefore, before you call Hornet and Wasp Control services, you must know where the nest has been built.
 Note that if you are unlucky, the wasps can build a nest right inside your home, thereby putting everyone's life at risk. In your house, they can settle inside a wardrobe or in the corners of silent rooms where people don't frequent.
 To keep yourself and your loved ones safe, you must identify the nest as soon as possible. You can do this by closely watching the flight patterns of the wasps as they hover around your home. It is impossible to get rid of Wasp Nest if you don't know where it is located.
 Once you have spotted the nest, make sure you don't attempt to remove it yourself, as you would be putting everyone's life at risk. Instead, the best thing you can do is to call a wasp exterminator from our company to help get rid of the wasp nest for you.
 Do you have to remove the nest?
 Most of our clients ask this question. Once
the nest has been treated, it will not threaten anyone in the house, and you can let it stay there. We will follow your instruction once the Warren Wasp Nest Removal services are over and the nest is safe.
 Our experts will remove the wasp nest if you ask them to. However, there is no need to, as the queen wasp will never settle in a nest that is already used. They will only build theirs and start a colony there. Thus, rest assured that even if the nest is not removed, it won't attract more wasps to your home.
 Regardless of the season, the wasp nest will not produce any smell even if it stays there long. But most of our clients prefer it to be removed as it interferes with the overall home décor. If that is what you would prefer, then our experts will remove the nest for you.
 Why you should contact us
 There are many reasons why you should contact us to get rid of wasp nest for you.
 1. Affordable services
 Are you worried about wasp nest removal cost? We don't charge exorbitant prices. Our work is to bridge the gap between price and quality. As such, even with a small budget, you can easily access our services.
 2. Reliability 
 We are very reliable in terms of time
management and the quality of services we provide. You can be sure that we will show up on time and finish the work without inconveniencing your schedule. Most of our clients report that our speedy work doesn't affect the quality, which is why they keep coming back for more.
 3. Safety
 Once we come to get rid of the wasps for you, we won't be all over the place. Instead, we will carefully approach the wasps so that they don't sting anyone in the process of treating the nest.
 Closing thoughts
 Up to this point, you must have seen that we are the best team to provide you with Hornet and Wasp Control services. Therefore, go ahead and place your order today. We will show up in time and make sure your home is entirely safe. For more
information about contacting us, head to our homepage. You will find our phone number and the email address you can use to tell us about the situation at home. Note that we won't charge you high Wasp Nest Removal costs.
SK11