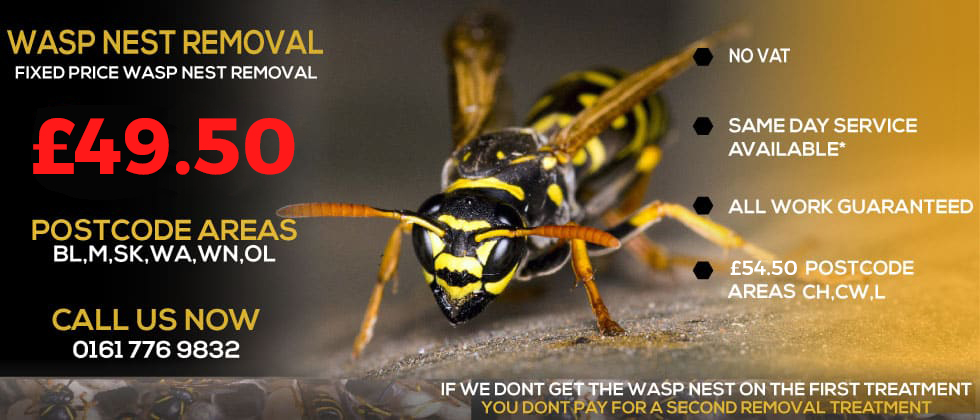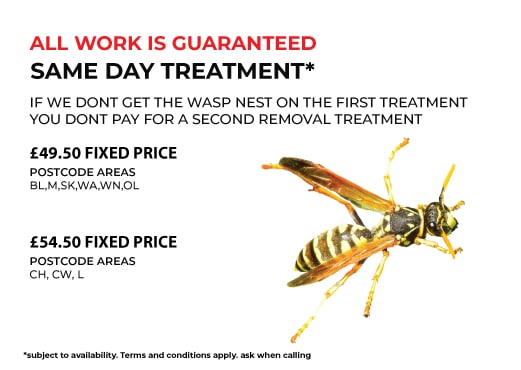 Need Help? Call Us On 0161 776 9832 For Expert Pest Control Advice On How To Identify Pest Infestations And Help Solve Your Pest Problem.
Tatton Wasp Nest Removal 
 The short "waist" that divides the abdomen from the thorax, known as a petiole, distinguishe
s wasps from bees. Yellow, brown, metallic blue, and bright red are just a few of the colours offered. Stinging wasps are part of the Vespidae family, which includes the brighter-coloured species.
 Wasps are a large and diverse group of insects, with several species documented. However, those wrapped in vivid warning colours that buzz angrily around in groups, threatening us with terrible stings, are the ones we are most familiar with.
Why Hornet and Wasp control is necessary
 Wasps are well-known for their distinctive buzzing and painful stings. Wasps sting intruders to defend their nests and colonies. Hornet and wasp control is necessary because: when they establish a nest on a building's ceiling, they nibble away at the wooden surface, causing damage. As a result, we have professional specialists at Tatton wasp nest removal in wasp nest removal. They have the instruments and know-how to exterminate hornets and wasps on your property.
 Wasps can be a severe nuisance to individuals in both residential and commercial settings. They are unpleasant
because of the cost and health implications. In addition, wasps are challenging to control because they reproduce quickly and have survival characteristics. As a result, as soon as you notice pests, you should contact a professional pest control company like Tatton pest treatment to get rid of the wasp nest.
 We've been dealing with wasps of all kinds for a long time, and as a result, we've become the leading wasp exterminator in the Tatton area. Our services are unrivalled, and we offer cheap wasp nest removal costs to our customers. In addition, our web evaluations are overwhelmingly positive, so you can relax knowing that your insect problem is in good hands.
Why it's not enough to treat the pest yourself.
 Hornets and wasps may be found almost anywhere in the UK, and they can be dangerous pests because they attack in large swarms when their nests or territories are threatened. This type of insect typically builds seasonal nests near people's yards. Because these insects are skilled at hiding their nests from harm and responding quickly to threats, most people are unaware they are near a hornet or wasp nest until it is too late.
 When a nest is assaulted, hornets and wasps become enraged and swarmed to defend their territory in massive numbers. Even though their bite and sting are typically considered non-lethal, the sheer volume of stings has resulted in cases of shock and death. As a result, you should hire a professional wasp exterminator instead of trying to control hornets and wasps on your own.
Why customers should use our professional wasp control services.
Residents and businesses individual in Tatton can take advantage of our wide choice of wasp control services. Our wasp nest removal cost is fixed per nest. Wasp nest clearance is one of the critical services we provide. Our crew are specialised in our services, and they receive frequent refresher training to guarantee that they are on the level with other industry leaders. They also wear protective clothing to keep themselves safe from stinging insects and insecticides.
 Our pest control services are accessible throughout the year. We will be at your doorstep upon your notification and deliver our services the same day.
 We offer fumigation services against most pests and pest-proofing solutions for residential and commercial properties. The insecticides we employ during treatment are safe for children and pets, and they follow environmental regulations.
 To undertake pest control solutions, our professionals are certified. They've been trained to industry standards in Tatton Wasp Nest Removal, and there's no pest they haven't dealt with before, regardless of scale or location. We track down the source of pests or their colony and treat their environment as effectively as feasible. We value your time, so we always try to get rid of a wasp nest in your premises in the quickest period possible.
 We also offer emergency response services,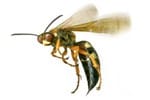 albeit this comes at an additional cost. For example, if you have a pest emergency, such as a wasp infestation in your restaurant, we may dispatch a task force to your location right away.
WA14
WA16