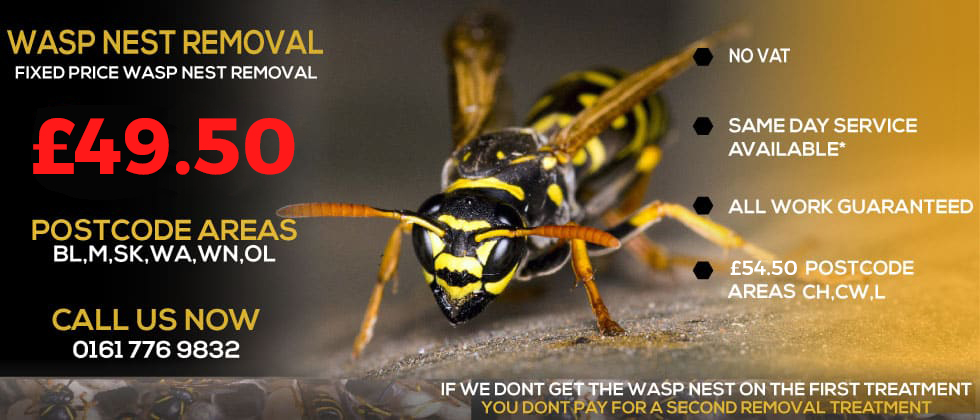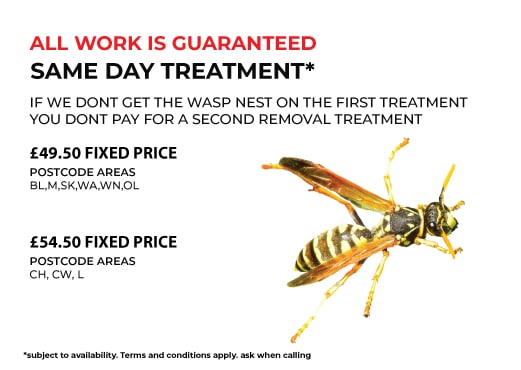 Need Help? Call Us On 0161 776 9832 For Expert Pest Control Advice On How To Identify Pest Infestations And Help Solve Your Pest Problem.
Smithy Green Wasp Nest Removal 
 Around food and drinks, wasps may be aggravating and annoying. As long as there is a void behind cracks and crevices, wasps tend to build their nests. In case you come across a wasp nest in your premises, do not panic. Young's Pest Control is a call away from you. You may not know the dangers if a wasp or hornet has never stung you. 
 Allergies and death, in some cases, are some of the dangers that may happen if you are stung. It would be best to look for hornet and wasp control to help you get rid of the wasp nest. A wasp nest may house more than six thousand wasps making it very dangerous to control yourself. Smithy Green wasp nest removal ensures that the larva and the adult wasp have been destroyed.
 Reason To Call Us
 Once you see wasps around your premises, it is an alert that a wasp nest is near or within. However, when you try to buy the wasp control treatment, you may incur more wasp nest removal costs because the insecticide levels in the treatment are very low to control the wasps. Because of that, you may annoy the wasp, and they may get aggressive, putting yourself in great danger of being injured by the stings.
 Young's Pest Control has the best and
required wasp extermination insecticide. They also save you time and money you would have wasted with the wasp removal treatment you have bought over the counter. Your premises are safe from wasps once you notice a wasp nest and call Young's pest control because they exterminate the wasp nest in the best way possible.
 Why Young's Pest Control
 People prefer choosing young's pest control to help them get rid of a wasp nest in their premises because of the following.
 • Discrete services
 You may be worried that your neighbours will notice that wasps infest you, but you need not worry. Young's pest control van is unmarked to ensure that your privacy is not disclosed to anyone. In addition, the personnel are very discreet and only take a few minutes to ensure your safety and ensure no alert has been sent to anyone around your neighbourhood due to their professionalism.
 • Technique used
 Young's pest control uses modern ways to get rid of the wasp nest compared to other Smithy green wasp nest removal companies. In addition, the wasp exterminator that is used is of high quality to ensure that you are safe.
 • Time
 The time used by the experts to remove the wasp nest in your premises is very minimal. Once you call, Young's pest control takes 30 to 90 minutes to arrive and respond to your emergency. They respond to emergencies any time of the day because their client's safety is their priority.
 • 24-hour customer care services
 No matter the time, you can contact Young's pest control as their able customer care team is always ready and fast to help you if you have any queries or need assistance. You will be served even though it is at what time of the night with respect and politeness.
 • Price
 Wasp nest removal cost is fixed for Young's pest control so that their clients are not oppressed. They offer a flat rate fee to everyone who contacts them. The provided price is kept a secret between the client and Young's pest control because they do not want to violate their client's privacy.
 • Experience
 Young's pest control has experienced and skilled personnel who are trained to tackle any emergency. In addition, the company has been in the hornet and wasp control industry for more than 20 years. This means that they have acquired more information on dealing with wasps in traditional and modern ways.
 • Quality
 The wasp exterminator services provided by
young's pest control are of excellent quality and guaranteed. Guaranteed results are supplied because the experts can locate the nest in case you have not. Therefore, your money will not go to waste because the results that will be provided will be excellent.
WA16