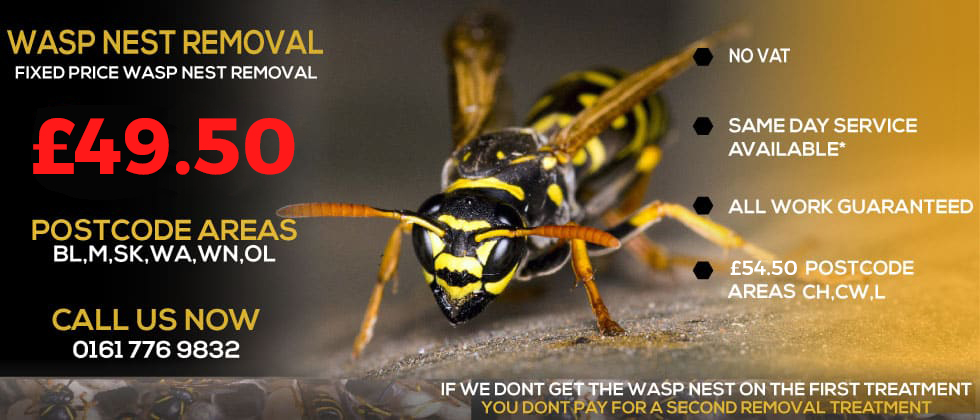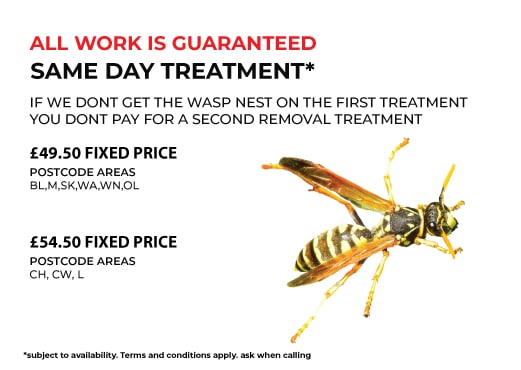 Need Help? Call us on 0161 776 9832 or drop us an email for expert pest control advice on how to identify pest infestations and help solve your problem.
Pott Shrigley Wasp Nest Removal 
Upon discovering the presence of a wasp nest in your home or business premises, you might be tempted to get rid of the wasp nest on your own. Online videos and articles will show you how to save on Wasp Nest Removal Costs by advising you to march towards a wasp nest with a spray filled with homemade remedies and broomsticks. Wasps and hornets are not like other pests. They are aggressive and vicious if they feel threatened. Therefore, if you are not careful enough, you might have swelling and other allergic reactions.
 In the UK, wasp stings become rampant during the fall in the months between September and November. Wasps stings are excruciating and can be life-threatening for people allergic to insect stings. Out of vengeance, you may be tempted to kill these insects. However, that can be detrimental to the ecosystem. Wasps are predators. They feed on other insects. This helps in keeping the population of insects in check, which is beneficial for gardeners. Hiring Hornet and Wasp Control services can help ensure you no longer live in fear of getting stung by these pests. Professionals are also trained on controlling these insects safely. 
 The Pros of Professional Hornet and Wasp Control
 • 
Effectiveness
 The effectiveness of services offered by a professional wasp exterminator is
incomparable to that of a non-specialist. Professionals are trained in dealing with all species of wasps and hornets. They are also equipped with the necessary tools and background information to avoid a wasp nest and ensure they do not return. In addition, the pesticides used by professionals have a high potency which is the best for dealing with the most stubborn pests. 
 When you hire Young's Pest Control, we guarantee to eliminate these dangerous insects for you and make your home a safe place for you and your family members. 
 • 
Less Risky
 It is risky to get rid of Wasp Nest on your own. Thousands of wasps can come charging at you and leave you in agony. Such an ordeal is not worth going through in the name of saving a few pounds. By hiring a Wasp Exterminator like Pott Shrigley Wasp Nest Removal, you are assured of the safety of your loved ones. Pest Control Experts are equipped with personal protective equipment when dealing with a wasp infestation. The protective clothing helps keep off wasp stings which can disrupt their work. 
 • 
Regular Inspection
 The best way of avoiding a wasp infestation on your property is by taking preventive measures. By hiring a pest control company, you can be assured your home will remain wasp free for the longest time. Pest control experts provide regular inspection services to identify any early signs of pest infestation and deal with the problem before it grows out of hand. As a homeowner, you get to save on money when your home is kept pest-free. 
 • 
Time-Saving
 Time is a crucial factor when dealing with pests. If you decide to fumigate your home, you might be forced to forfeit some of your plans. In addition to that, you may end up
spending a lot of time on the fumigation process. If you value time, you should not hesitate to hire a team of specialists to treat the wasps for you. By hiring a professional pest control company, you get the time to continue with your planned activities. In addition, professionals are quick to identify hidden wasp nests and treat them, making it possible for you to have all the house to yourself within a short time.
 If you are looking for a Wasp Control Service, Pott Shrigley Wasp Nest Removal is the right choice for you. Pott Shrigley Wasp Nest Removal offers the best hornet and Wasp Control Services in Cheshire, England. We are masters in provide discrete services;
therefore, there is no need to worry about your neighbours. If you are trying to save on Wasp Nest Removal costs, we are the best at doing that. Our services are very affordable. Reach out to us today, and we will not disappoint.
SK10