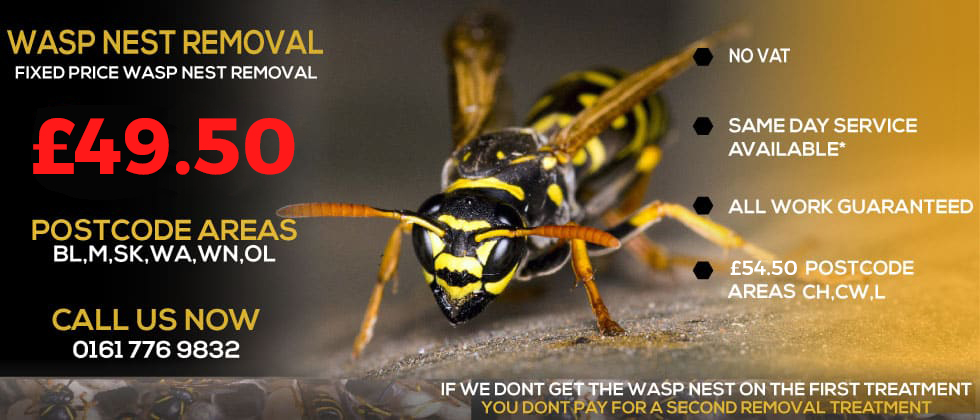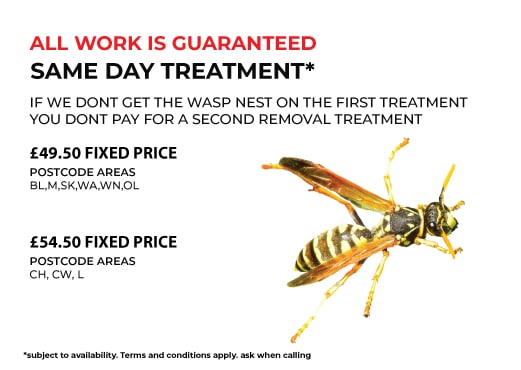 Need Help? Call Us On 0161 776 9832 For Expert Pest Control Advice On How To Identify Pest Infestations And Help Solve Your Pest Problem.
Oakgrove Wasp Nest Removal 
 When you require expertly delivered hornet and wasp control that is guaranteed to be effective, it is time to pick up your phone and ring our team here at Youngs Pest Control. 
 Our team of professional pest exterminators knows how to get rid of wasp nest problems that are plaguing your home and putting your family at risk of painful stings or worse. These services are provided at a wasp nest removal cost that will leave you feeling that you received great value for the money that you spent.
To Pros to Contact When You Need to Get Rid of Wasp Nest Problems
 Given that wasp and hornet stings are painful and can also cause severe allergic reactions, it is crucial to hire a professional exterminator when faced with a colony of these pests at your home. We proudly service the residents of Oakgrove here at Youngs Pest Control. Our team goes above and beyond for our customers, and this has helped us build a reputation as the trusted pest control specialists to bring in here in Oakgrove.
The Signs That Indicate the Presence of a Wasp Colony
 The first sign that indicates you may be dealing with a wasp or hornet colony at your home is encountering multiple ones during your day. This suggests that there could be a nest present somewhere on your home's exterior or in its interior. 
 You will want to carefully investigate areas such as your home's eaves as well as the
cavities of walls and loft areas. These are familiar places that hornets and wasps will build nests during the spring and summer months. The actual appearance of a wasp nest is similar to that of paper mache.
 Once you identify that you do indeed have a wasp colony present at your home, you need to quickly give us a ring here at Youngs Pest Control so that we can begin the process of extermination. It is never recommended to try and deal with a wasp nest problem on your own. It is better to leave it to our trained pros, who will respond with the right equipment and safety protocols to deal with the situation the right way. Even if the nest looks small, it can still contain a large number of wasps capable of delivering painful and dangerous stings. 
 You do not want to put yourself or your family members at risk of being stung by these aggressive pests. It takes minimal provocation for wasps to attack, and they are highly unpredictable. 
Factors That Make Us the Area's Top Wasp Exterminator Service Provider
We continually go to great lengths to maintain our reputation as the trusted Oakgrove wasp nest removal specialists that area property owners count on. Some of the key reasons that we are the pros to hire when you need a qualified wasp exterminator include:
We will do the job at a wasp nest removal cost that will not leave you feeling as though you were overcharged.

Our fully qualified staff has extensive experience within the field of wasp extermination.

We are committed to doing the job the right way the first time so that you can rest easy again.

Hiring our team means that you will not be putting yourself at risk of getting stung.

We have a reputation for our quick response time.
Ring Us Today for Reliable Hornet and Wasp Control
 Ring us today to take advantage of the services of the leading Oakgrove pest control pros, who offer a wasp nest removal cost that you can live with. Our team at Youngs Pest Control is known for quick response times when area homeowners
contact us with wasp and hornet problems. You can reach our mobile phone on 07845 815 261, and you can get in touch with our office on 0161 776 9832.
We look forward to the opportunity to meet your hornet and wasp pest control needs here in Oakgrove. 
SK12