Need Help? Call Us On 0161 776 9832 For Expert Pest Control Advice On How To Identify Pest Infestations And Help Solve Your Pest Problem.
Northwich Grey Squirrel Control
Squirrel Control Issued by Young's Pest Control

The general population do not usually consider squirrels as a problem. Nevertheless, an alarming influx of the Eastern Grey Squirrel has seen a need for effective pest control. Here at Young's Pest Control, we offer and administer professional Northwich grey squirrel control, squirrel removal and squirrel pest control.
Grey Eastern Squirrels usually occupy deserted bird's nests or small holes in trees trunks. However, due to the recent population increase, this species has tended to opt for inhabitation in roofs, lofts and some outbuildings. Grey Squirrels also leave their droppings behind and make horrendous scratching noises throughout the day and night. Their occupancy within the aforementioned areas is comparable to that of other vermin. We offer professional squirrel trapping services and use specifically designed tools that entice the squirrel.
Squirrel Behaviour and Trapping Techniques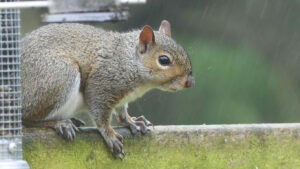 Grey squirrels are understood to carry fleas, which may, in turn, be passed onto domestic pets if the creature comes into close contact with them. Thus, squirrel proofing is recommended if such problems persist so that they can be managed. Squirrel proofing will be administered in recovering holes with mesh, having roof areas shingled or closing up vents. We ensure that squirrels will not gain access to your property once work has been undertaken.
Squirrel trapping is handled effectively, and we use materials specifically designed to solve the problem promptly.
Other Important Information

Typically, squirrels are not known to be purveyors of disease but attack and bite humans when their territory is invaded. Squirrels are often associated with being cute and happy creatures, but they can be more destructive than helpful. Grey squirrels are known to acquire birdseed by any means possible, leaving damage in their wake. We recommend that you purchase metal birdfeeders if this problem occurs or is persistent. Nevertheless, squirrels have strong teeth, and even the sturdiest birdfeeder may be subject to attack. If you continue to suffer from sustained squirrel infestation, then do not hesitate to call us.
Eastern Grey Squirrels have also been seen taking freshly installed flower seeds and ripping bark of trees in feeding frenzies.
Young's Pest Control Services and Squirrel Removal Services


If you have a squirrel infestation problem, then why not give us a call? A dedicated member of our team will be able to take you through the services we offer to tailor our services to your needs. Our packages include bespoke professional Northwich grey squirrel control, general squirrel control and specified squirrel pest control. We will also conduct an initial survey on the infested areas to take the appropriate course of action. We understand that infestations within private and commercial properties can be distressing for any customer; therefore, we aim to carry out Northwich grey squirrel control immediately after a survey has been done. Once the pest control has been completed, infestation should not reoccur, and your property should be restored to the usual working order. If you have a problem, we have a solution.
CW8
CW9