Need Help? Call Us On 0161 776 9832 For Expert Pest Control Advice On How To Identify Pest Infestations And Help Solve Your Pest Problem.
Professional Lymm Mole Trapping and Control Services
Young's Pest Control is an established local business. Lymm mole trapping and control is their speciality and other common pests we encounter in the UK. Young's is an accredited company that carries all the necessary insurances, ensuring that they are a company that their customers can trust. Young's uses all the latest methods and products in the pest control industry.
Mole control is Young's speciality.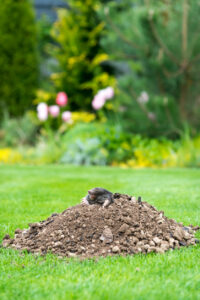 Lymm mole trapping is one of Young's many specialist areas. When many of us think of moles, we remember the heaps of earth that they leave behind, after often causing an immense amount of destruction to domestic gardens, parks and even properties. It can be a devastating site, especially when you have been working hard in your garden.
Moles live underground. Moles can rapidly build their underground homes by building complex tunnel networks at a staggering rate of about four metres every hour. Moles have poor eyesight and hearing and therefore find earthworms to feed on by touch. Moles seem to come from nowhere, but eradicating them isn't so easy. With Young's, we will be able to take the headache of moles away for you, allowing you to get down to the important business of repairing your garden.
Nutrient-rich soil is particularly attractive to moles. Therefore, the nicer and well maintained your garden is, then the more damage you are likely to suffer.
It is tough to manage moles yourself. Eradication relies upon a good understanding of mole biology. Do it yourself eradication is both inefficient and time-consuming. Young's can provide you with the professional advice you produce a tailor-made approach to Lymm mole trapping and control, putting you, the customer, in control of the pest control plan.
Young's looks after its customers


Young's guarantees that all its customers will be satisfied with the work they do. Young's aims to involve all of its customers in the pest control plan right from the very beginning. Then, a tailor-made program will be formulated, appreciating the customer's unique situation.
Young's Lymm mole trapping services and general pest control services strive to be the best in the business. A combination of its excellent customer focus, its willingness to listen, and its reasonable prices have resulted in its reputation. As a result, young's is a business you can rely on for all your pest control needs.
 WA13