Need Help? Call Us On 0161 776 9832 For Expert Pest Control Advice On How To Identify Pest Infestations And Help Solve Your Pest Problem.
Little Bollington Pest Control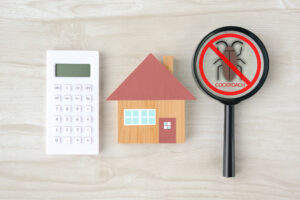 No matter how clean or how tidy your home is, you will likely have to deal with a rodent or pest infestation at one point or another. Vermin are tiny and very agile and thus can get into your residence or offices through crevices and other open structures. Once the first wave has set foot inside, they'll hide, reproduce and grow in number. This is why it's so hard to handle an infestation on one's own.
 Thankfully, there are reliable pest extermination services for this. Our Little Bollington Pest Control experts are well trained and readily equipped to clear out these minuscule terrorists from residences and business properties in the area. These specialists will do everything from conducting mice & rat control to other services like wasp nest removal treatment. Some of the significant pest groups we deal with include:
 1. Rodents
 Rats and mice are probably some of the smallest bullies you'll ever come across. Rodents will live in and off your house while corrupting everything they lay their dirty paws on.
 • Their teeth are so sharp that destroying your clothes, documents, and other items comes easy to them
 • Their small size coupled with their increased agility and flexibility makes their inter-room migration easier
 • Their black beady eyes might not show it, but these creatures possess acute spatial intelligence that helps them avoid DIY traps
 • They are the perfect colonisers due to their alarming breeding rates
 • To add insult to injury, not only do their droppings and saliva expose surfaces and food to disease-causing microbes, but they are also carriers of other pests like fleas and mites
 Proper mice & rat control is difficult for the average person to conduct effectively. Without adequate training, you will waste your time and energy while giving rodents enough time to cause severe damage to your house by nibbling on power cables and water pipes. 
 Fortunately for you, our Little Bollington pest control professionals will eliminate vermin humanely, effectively, and in record time. 
 2. Flying insects such as bees, wasps, and even ants
 At least rats and mice dare to hide. Insects such as wasps, bees, and ants build their nests on/in your wooden structures and gypsum ceilings. Once they have a base of operations, they will feed and multiply. 
 Getting rid of them is a nightmare as wasps and bees, for instance, have stingers, which they aren't shy to use once they feel they're
being attacked. So unless you have actual expertise in the removal of these bugs, the use of professional services is recommended for the safety of your colleagues and loved ones, as well as your safety. 
 Our pest extermination specialists in Little Bollington have the tools and knowledge in their arsenal required to get to the root of the problem and effectively return your premises to the desired pest-free state you so crave. We also do a comprehensive wasp nest removal treatment to ensure that they never come back.
 3. Bedbugs 
 Now the worst of the bunch – bedbugs. If you've had the misfortune of lying on a bed with these bugs, then you know that there's no chance of getting a peaceful nap until the infestation is done.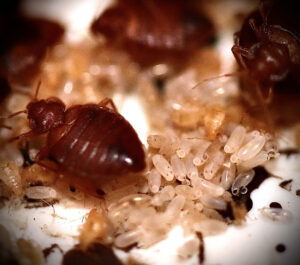 Furthermore, these pests are notoriously difficult to get rid of. This is because being nocturnal creatures flushing out during the day is almost impossible. They hide in crevices and cracks near their feeding zones – these include bedposts, sockets, and even in between your sheets. 
 In addition to being unsightly, they lay eggs fast, and their increased numbers increase their spheres of influence in your house. Not to mention, they release an intensely horrible smell when killed. So, for your sanity's sake, you will require professionals to return your living area into the sanctuary it ought to be.
 What are our services? 
 Whatever the nature of your rodent or pest infestation, you can be sure to count on Young's Pest Control Service for the best pest control experts. Some of the services offered by our Little Bollington branch include:
 • 24-hour availability – you can contact us day or night
 • Professional assessment of your living situation to determine the extent of the infestation
 • Free quotations
 • Ensured client and customer safety
 • Fully insured treatment services
 • An interactive and helpful customer service
 Takeaway
 Looking to save a quid or two here and there is human nature. However, doing it yourself and going cheap is dangerous and ineffective when it comes to pest control. So for all professional vermin and pest control in the UK and Little Bollington specifically, contact us today. Your wellbeing is our priority!
We cover all pests in Little Bollington. Here's an example of a few Pest's Below:
WA14