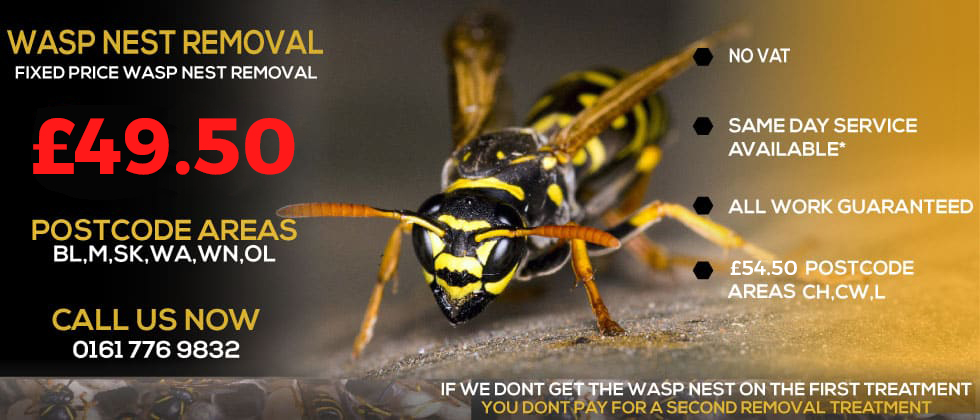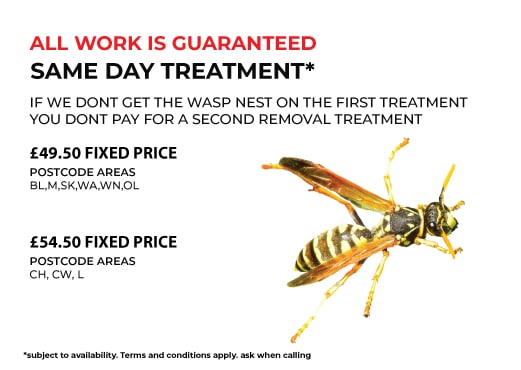 Need Help? Call Us On 0161 776 9832 For Expert Pest Control Advice on Identifying Pest Infestations And Help Solve Your Pest Problem.
B

exton Wasp Nest Removal 
 Are you a resident of Bexton and its
surroundings looking for a reputable wasp nest removal service? Like any other insect, wasp infestation is a common phenomenon in the warm season. This insect is a predator and feeds on other insects that destroy crops. 
 Unfortunately, when they build their nest in your premises, they become a threat and nuisance to the well-being of your family members. Furthermore, when they sting, they can cause various allergic reactions that can be fatal. That is why it is recommendable to engage the services of a reputable wasp exterminator when you notice the presence of hornets and wasps in your home. In this guide, we will discuss seven benefits of engaging Bexton wasp nest removal services.
 Benefits of engaging Professional Wasp Exterminators 
 Hornet and Wasp Control requires the services of a professional to handle the process with ease. Professionals in this field have the correct information needed to exterminate wasps entirely from your premises. The following are seven benefits of engaging a professional to get rid of a wasp nest in your premises. 
 #1. Environmental Concerns
 Professionals in wasp removal services don't just mix and use insecticides. These experts are fully aware of what is happening in the pesticide industry. They know the environmental impact of each insecticide they use and the consequences of using banned insecticides harmful to the environment. 
 #2. They Understand a wasp life cycles 
 Hornet and Wasp control services in Bexton are not laymen when it comes to entomological knowledge. These experts are fully aware of the root causes of a wasp infestation. Also, they have background knowledge on how wasp reproduces and behave. With this information, these experts can eliminate wasps and hornets using innovative procedures that are pocket and environmentally friendly.
 #3. Protects the well-being of your family members 
 Professional wasp exterminators handle their tasks with a great deal of success. These experts use adequate health precautions during the procedure to protect your family from wasp stings. Unlike DIY, experts are dressed in the proper personal protective equipment and equips themselves with the necessary tools to handle the task. 
 #4. It saves time and money
 When you engage the services of a professional exterminator, you save yourself from a rigorous process of eradicating wasps. Experts save your time and lower wasp nest removal cost. Also, during the process, these experts do not need your presence to supervise the operation. They have the proper training to handle any problem that may arise during the operation on your behalf.
 #5. Quick in locating Wasp and Hornet 
 When you try to inspect and locate all
hornet and wasp nests on your premises, you may end up wasting several hours on unproductive work. That's why it is recommendable to let an expert handle this task on your behalf. As a result, using their knowledge and expertise, they identify all wasp and hornet nests with ease. In addition, the ability to locate all the wasp nest in your premises enable exterminators to offer better wasp nest removal cost to their clients.
 #6. Cleaning
 After applying various pesticides to eradicate wasps in your premises, it is vital to ensure your facility is left clean. This process of cleaning requires specialized equipment that DIY may not have. However, when you hire the services of a professional wasp removal company, it means that your premises will be left clean after an extermination exercise.
 #7. Pesticide utilization 
 Any homeowner in Bexton who have engaged the services of a wasp exterminator from Bexton wasp nest removal company can attest to their proper utilization of pesticides. Professional wasp exterminators apply insecticides in moderation and are fully aware of their effects on the environment. That's why it is not recommended for DIY to use these insecticides on their own to exterminate wasps. Instead, it is advisable always to contact experts who know the ideal amount of insecticides suitable for the task at hand.
Conclusion 
 Instead of attempting to remove wasp nest on your own, it is advisable to hire the services of an expert in wasp control. This professional will help you
get rid of wasp nest using a procedure that has minimal risk to your family and environment. Any homeowners in Bexton and surrounding areas can now relax and breathe relief. Young pest control services now cater for any hornet and wasp problem. A reputable company that's offers hornet and wasp removal and control service at pocket-friendly prices.
WA16