Starling (sturnus vulgaris)
Need Help? Call us on 0161 776 9832 or drop us an email for expert pest control advice on how to identify pest infestations and help solve your problem.
Starling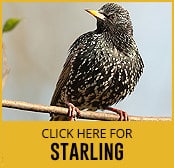 The starling (Sturnus vulgaris) is one of the most frequently spotted birds around the UK. Smaller than a blackbird, the starling appears to be black in colour but is actually a glossy purple or green. Short-tailed, with triangular wings and a pointed head they are well known for their noisy call. They can often be found in large numbers in populated areas and are one of the most common British birds. They can be extremely confident which leads them to become a household pest as they can choose to nest in large flocks in loft spaces and outbuildings causing a nuisance to homeowners. 
When the Sturnus vulgaris chooses to nest in loft spaces they can cause structural damage. Their excrement is extremely unpleasant and is also hazardous to human health, spreading bacteria and disease. For these reasons, it is very important to call in a professional pest control service in order to resolve the problem.
A pest expert is able to visit your property in order to assess the extent of the problem and to advise on the best methods to use in order to deal with the situation. Although starlings are protected by law and cannot be killed, there are many other solutions to the problem. Using humane but effective control methods, your property can be quickly eradicated of starlings. They can also offer useful advice about how to prevent the infestation from returning and can assist with repairing any damage and cleaning up the mess caused by these pests.