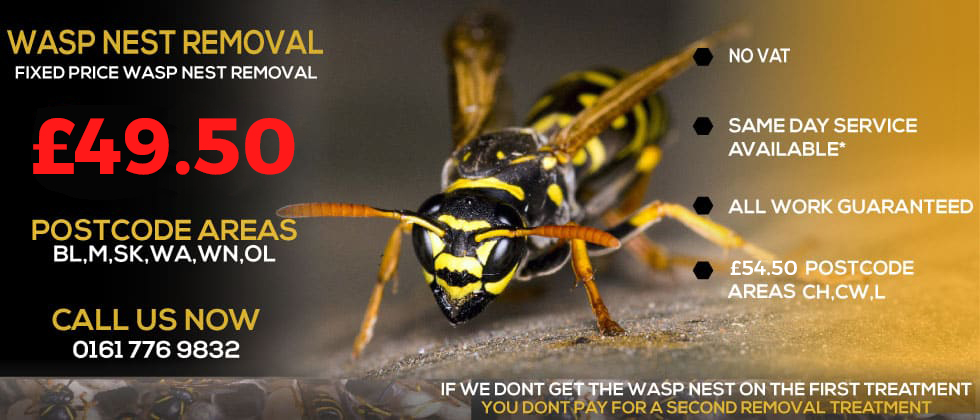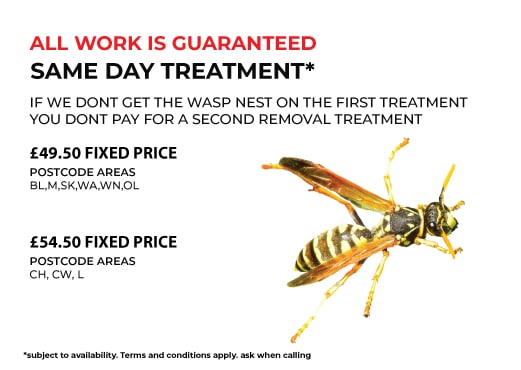 Need Help? Call Us On 0161 776 9832 For Expert Pest Control Advice On How To Identify Pest Infestations And Help Solve Your Pest Problem.
Netherton Wasp Nest Removal 
For people living in Netherton and other parts of the UK, wasps are the most common pest problem in homes and commercial premises. It is not advisable to get rid of the wasp nest without professional help, as you can get injured. Wasp stings are painful and can cause hospitalisation if you are allergic to the sting.
 Luckily, our Netherton Wasp Nest Removal professionals can help you get rid of wasp nests without endangering your family or pets. We use the most effective Hornet and Wasp Control methods using modern equipment and safety personal protective equipment.
Identifying a wasp nest
 You will most likely spot Wasp Nests during the warm months of spring and summer. These pests will choose the most favourable position around the interior and exterior of your home. Some of the most common areas where wasps build their nests include the loft spaces, inside cavities on the wall and under the house's eaves.
 A Wasp Nest is white and papery as it is made of chewed wood pulp. A single nest can house hundreds of wasps, while more enormous nests contain up to 6000 wasps. Therefore, it is essential to contact a wasp exterminator even if you spot a small perch.
Why call us?
 Below are some of the reasons you should call our Netherton wasp nest removal experts instead of doing it yourself.
24-hour hornet and wasp control
 At Young's Pest Control, we are committed
to keeping your home pest-free regardless of the day and time you need us. Our Netherton experts will visit your home and conduct a situation analysis before they recommend the best Wasp Nest Removal method to use. Our customer service personnel will pick your call any time of the day and night and on any day, including weekends and public holidays.
Expert wasp exterminator
 All our pest control experts have undergone intensive training in pest control and removal services. Such training helps them understand the best pesticides to use according to different situations and ways of identifying the pest's hiding areas. Pest control professionals also have vast knowledge and experience gained when working in various homes in the UK. The knowledge and experience will help them come up with the right solution for your specific problem. Hiring our local experts also guarantees you safety, thanks to safe wasp nest removal methods and modern equipment for the job.
Fixed price service
 Unlike other pest control companies that
only disclose wasp nest removal costs after finishing the job, our experts will calculate and explain the total wasp nest removal cost when they visit your home for an inspection. In addition, we will use unmarked vehicles when visiting your home to ensure your privacy, plus we will be at your premises for a few hours. All these privacy measures will ensure that your neighbours are unaware that you have a wasp infestation problem.
Fast service
 We know how dangerous wasps can be, so our response time is one of the fastest in the industry. Our pest control experts will arrive at your premises in the shortest time possible after your call. The experts will also solve the wasp problem within a few hours and leave your premises soon after, no matter how severe the infestation is. At Young's Pest Control, we are aware of your privacy needs. That is why we ensure that we take the shortest time possible to complete the job.
Professional services
 Thanks to their pest control knowledge and experience, our wasp exterminators will deal with the wasp issue without posing a risk to themselves or any other person in the house. They will also inspect your home to identify the problem's root cause before choosing a wasp extermination strategy. Wasp nest removal should be done by skilled professionals who understand its risks and not amateurs.
 Give us a call anytime you spot a wasp nest
in your home. Our team of professionals will solve the wasp issue completely. We provide excellent pest control services, and our prices are affordable. Wasps should not interfere with your peace when there are professional exterminators in your neighbourhood.
L30