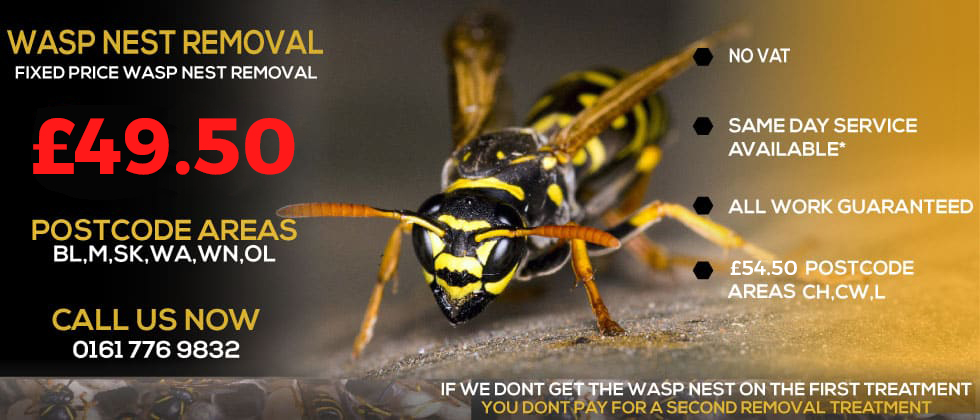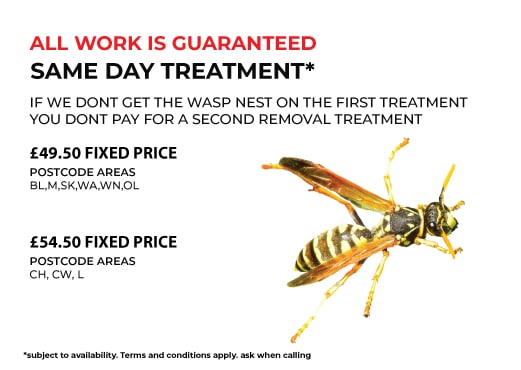 Need Help? Call Us On 0161 776 9832 For Expert Pest Control Advice On How To Identify Pest Infestations And Help Solve Your Pest Problem.
Netherley Wasp Nest Removal
Are you struggling with pests in the home? Well, pests such as wasps can be a considerable nuisance and discomfort in the house. Besides deterring comfort, the wasps are a significant danger for the people living in the vicinity, especially children and pets. While wasps are this dangerous, trying to remove them by yourself can be equally tricky. These insects carry stings, and their attacks are painful. This is one of the many reasons you should have professional pest control services. They are expertly trained and have the right equipment to handle the wasps from your home. Here is why you should hire professional Netherley wasp nest removal services.
Why You Should Hire a Professional Wasp Nest Removal Company
They have the correct equipment and tools.
Since we operate as independent entities, we have invested in the right equipment and tools to safely remove the wasp nest from your building. Before we perform the wasp removal procedures, the wasp exterminator will check the premises for any issues. Afterwards, we come in with the right equipment, tools, and personal protective equipment to remove the nests without damaging any property or hurting anyone. It is a professional job, and we are up for it.
We have the experience and knowledge in exterminating wasps.
Professional wasp extermination companies have been in the field for quite a long time and know what is required. We have the experience and have amassed a lot of knowledge in dealing with a wide range of hornets and wasps. We have mastered the
tips and tricks to ensure that all the wasps are gone. While We are on the job, we will also identify hornets and help you with the eradication. We are all-rounded and know what is expected from us.
We are affordable and have exceptional services.
Every good service comes at a cost. The cost is a significant aspect as it determines who you hire for the job. Wasp nest removal costs should never be a bother when you have professional pest control companies by your side. We will get rid of the wasp nest and ensure that no eggs are left on your premises. You can now relax in the comfort of your wasp-free home. Get the best wasp nest removal cost quotation today.
We will ensure that you and your family are safe.
A professional wasp exterminator knows their way around wasp nests. Besides learning how to remove them, they also know how to do it safely. Removing the wasp nests on your own involves lots of risks to you and those around you. The wasps can sting you and leave you with scars for life. To avoid all this, you should hire professionals. They will follow the proper procedures without accelerating the threat or risk in the situation. Depending on the extent of the wasp infestation, we may require you to stay inside the house or vacate just for a few hours.
We have the correct certifications and requirements
Companies with valid certificates to operate their services professionally are essential. We are members of reputable pest control boards such as the NPTA. This means that we have the legal documents to use our services. You can trust us to handle your pest control problems from Netherley to Merseyside.
Get peace of mind
When you hire the correct wasp control specialists, you benefit from high-quality services and peace of mind. They will help you get rid of a wasp nest in the home as well as hornets. They have the correct tools and equipment to perform hornet and wasp control and can never mess your home up.
When looking for wasp removal, you should click on the 'hornet and wasp control' section. The same case applies to when you
want other particular control services. Regardless of where you are, you can always get through to us. Once you have settled on the service, you can quickly contact us for a quotation at any time. We are available 24/7 to offer quick assistance to you. You get to live a pest-free life.
L27