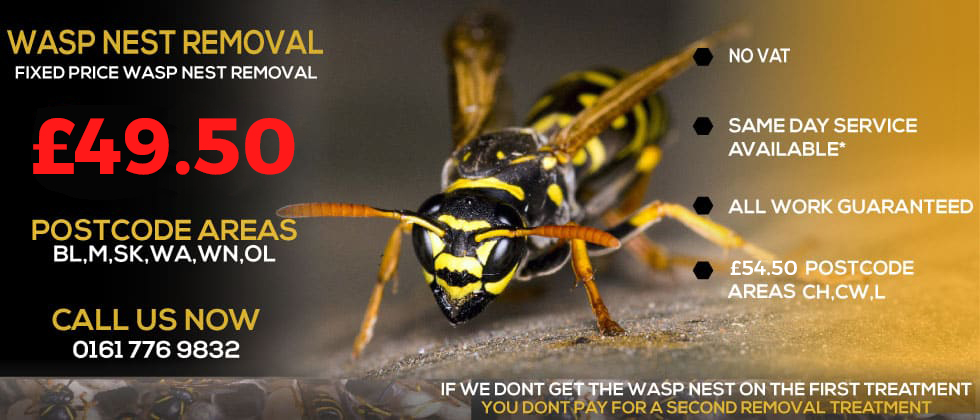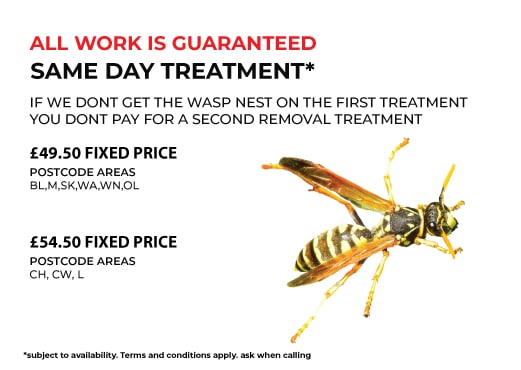 Need Help? Call us on 0161 776 9832 or drop us an email for expert pest control advice on how to identify pest infestations and help solve your problem.
Hoylake Wasp Nest Removal Treatment
Take precautions
Wasps and hornets have nasty stings, which can be life-threatening if you are allergic to them. This is why it can be hazardous to attempt to remove wasp nests yourself. Instead, the minute you see signs of wasps nesting, it is best to contact our professional wasp control service. Here is some more information on the potential seriousness of wasp and hornet stings as well as advice on how you can protect your family, home and business from them.
Serious warnings
The National Health Service (NHS) gives the following strong warnings. Wasp and hornet stings can be excruciating and can result in considerable swelling and itching. Some people can even develop anaphylaxis (a severe allergic reaction) in response to them. This can be life-threatening and happens very quickly. Anaphylaxis is caused by an overreaction of the body's immune system to an allergen. The significant signs of anaphylaxis include:
Red skin rash or itchy skin.

Swollen hands, feet, lips and eyes.

Nausea, vomiting and abdominal pain.

The narrowing of the airways causes breathing difficulties.

Faintness, collapse and unconsciousness.
Anaphylaxis must always be seen as an urgent medical emergency. You should call 999 for an ambulance straight away if anyone is thought to be experiencing anaphylaxis. It is essential to consult a qualified medical practitioner about any concerns that you might have about stings and your susceptibility to them.
Our first-class wasp control service
Our expert service gives you the comfort of knowing that:
The correct Hoylake wasp nest removal treatment is being used to deal with your specific problem quickly.

You will not have the anxiety of facing dangerous wasps and dealing with strong insecticides.

You do not have any mess to clean up or dispose of.
Why not call us for wasp removal today?
We deal efficiently with both domestic and business premises. Our second treatment is free if we cannot remove the nest on our first attempt. We guarantee our work.
Why wait any longer? Call us today to discuss all of your needs concerning Hoylake wasp nest removal treatment. Keep your family, friends, staff and clients all safe!