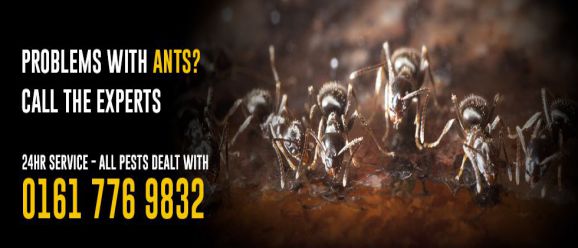 Need Help? Call us on 0161 776 9832 or drop us an email for expert pest control advice on how to identify pest infestations and help solve your problem.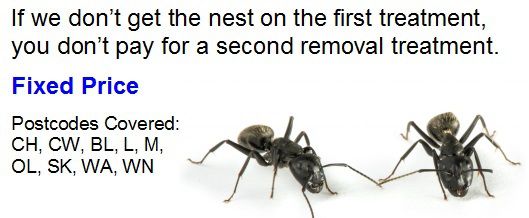 Qualified Heswall Ant Infestation Removal Services to Protect Your Home
In terms of the sheer number of insects, an ant infestation in a house or office can be the worst pest problem. Common species found in the UK are capable of building colonies that have hundreds of thousands of ants. If these are located in a building, the workers will forage for food, which can mean ants are getting everywhere. Using an expert Heswall ant infestation removal service is recommended to clear the problem from your home, and you will find this at Young's Pest Control.
Types of Ants


Pharaoh's Ant is the species responsible for many of the ant infestation problems in the UK. It can set up home in wall cavities and other sheltered locations around a building and is known for using the pipes of heating systems for moving around. Its preference is for high protein foods, and it can feed on meat, fat, and dead insects. Garden Ants may also be responsible for an ant infestation in house and office premises, although they can also build nests in the grounds around these. They will typically seek out sweeter items as a food source. Other species that can take up residence in UK buildings include Roger's Ants and Ghost Ants.
Ant Nest

Ants mate in flight, so a flying ant infestation signifies new queens and males coming together. Following this, the queens will search out a suitable nesting site. If a flying ant infestation takes place close to your property, this can mean that new colonies will establish themselves in and around your home. The queen will lay eggs to get this started, and the workers that appear will continue the nest-building process. If Heswall ant infestation control treatment is not implemented, the colony can grow in size to become a nuisance. This is especially true for Pharaoh's Ants, who can taint food they contact and chew on the packaging to get to the contents.
Professional Ant Control Treatment


The Heswall ant infestation removal techniques employed by Young's Pest Control operatives are designed to exterminate a nest fully. This ensures that an ant infestation is appropriately dealt with to altogether remove it. In addition, any property owner experiencing problems resulting from an ant nest can use our services, and we provide simple ways for you to get in touch. This includes mobile and landline numbers to call us and a message system on our website that provides an easy way to send an email.