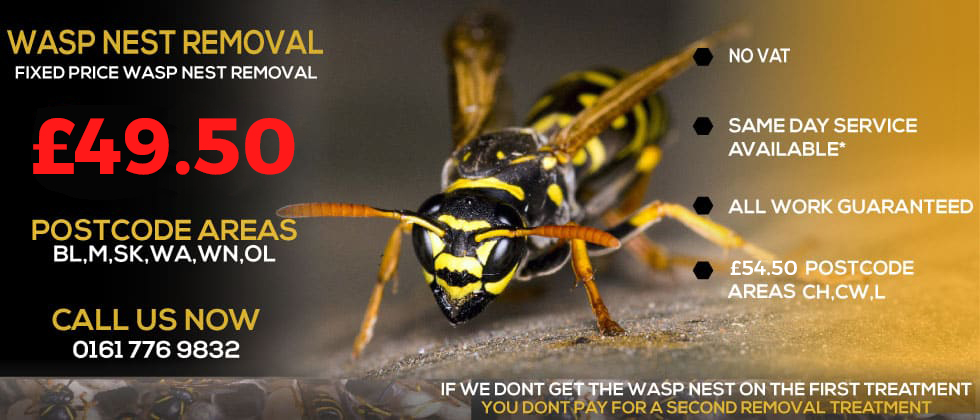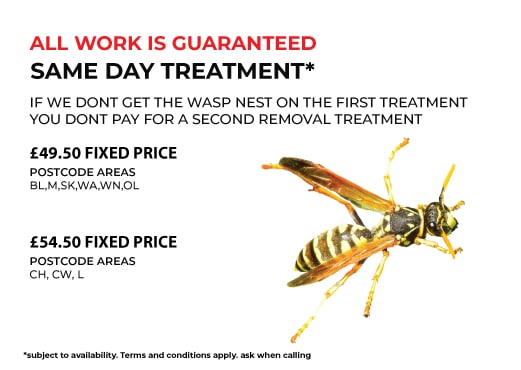 Need Help? Call us on 0161 776 9832 or drop us an email for expert pest control advice on how to identify pest infestations and help solve your problem.
Chester Wasp Nest Removal Treatment
Do you have a problem with one of the most common pests in the UK, the wasp? Unfortunately, many people do in both their homes and offices. Wasps can cause nasty stings, which may result in a severe allergic reaction, even causing death, so you really don't want to take any chances when it comes to these pests. At Young's Pest Control, we offer a full-service Chester wasp nest removal treatment and wasp control solution that will get rid of your wasps quickly and effectively.
More About Wasp Removal
Many people choose to try to destroy a wasp nest on their own or to use a home treatment. These options are dangerous as wasps tend to sting multiple times and attack in mass when provoked or even just disturbed. If you happen to have a hornet problem, the stings can be even worse as a hornet (a type of powerful wasp) possesses a powerful venom. Furthermore, home remedies are usually unsuccessful in getting rid of the pest and can be very costly.
This is why we recommend that you leave wasp control up to the professionals. At Young's Pest Control, we know how to handle all types of pests safely and effectively. We offer:
• 24 service
• Available 7 days a week
• Cover Greater Manchester, Merseyside and Cheshire
• Affordable, tailored solution
• Trained staff
• Personalised service
When To Call Us
If you find just one wasp, you should look around for a nest. Common places for wasp's nests are on the sides of trees and walls, in the eaves of roofs, along river banks and in small holes. A wasp nest can hold thousands of wasps, making the chances of a mass attack likely if not handled properly. If you come across a nest or have seen wasps on a few occasions, call us, and we will come to your home or office to assess the problem and provide the necessary Chester wasp nest removal treatment.
Don't delay. Contact us now for wasp removal, and we will get rid of your pest problem for you!
 CH1